Dental Implants Irvine California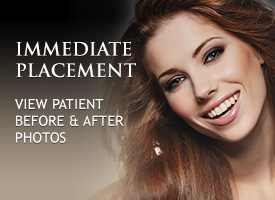 With over 20 years of experience in dental implants in Irvine, California, Dr. Emil Hawary can transform any smile from unpleasing to fantastic. Dental implants are an option available to replace missing teeth. A dental implant is a titanium rod that is fused to the jawbone in order to function as the tooth root, which will support a dental crown. To replace multiple missing teeth, a few implants can hold a bridge, dentures, or partial dentures. The replacement teeth will look and function like natural teeth and can improve a person's ability to smile, speak, and chew properly.
Although dentures and bridges that are supported by the natural tooth root can remedy many of the problems associated with missing teeth, they cannot prevent future bone loss the way dental implants can. This is why dental implants are often recommended to most patients who need to replace missing teeth.
Dental Implants Irvine
Few people know that when a tooth is lost, the lack of stimulation to the supporting jawbone causes a decrease in bone volume and density over time (atrophy). As the jawbone shrinks, the overlying muscle and skin collapse along with it, which can make a person appear older than their actual age. Dental implants are a solution for patients of all ages, with the exception of growing children.
The best candidates for dental implants in Irvine have:
Good general and oral health
Adequate bone in the jaw to support the dental implant
Healthy gum tissue free of periodontal disease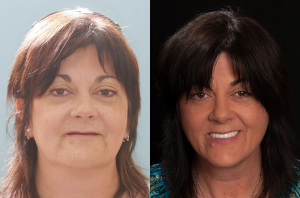 Although ideal candidates are those who have good oral and general health and have adequate bone mass, dental implants may be used on patients who do not meet these criteria. Dental implants have been successfully placed in those who have existing medical conditions, such as high blood pressure and diabetes. Those who have lost their teeth and have experienced bone loss as a result of periodontal disease or decay have also experienced good results with dental implants. Certain procedures, such as ridge augmentation or a sinus lift, may be necessary to improve jaw deformities or to ensure that the dental implants have enough bone to attach to. During a consultation at Art of Dentistry Institute for tooth replacement in Irvine, CA, your health history and the oral and dental structures will be assessed to determine if you are a candidate for the procedure.
Types of Dental Implants in Irvine, CA:
Endosteal Implants – The most common type of dental implants, these are surgically implanted directly into the jawbone.
Subperiosteal Implants – Subperiosteal implants are placed under the gum but above the jawbone. These dental implants are for those who have a shallow jawbone but cannot or do not want to undergo a procedure to rebuild it.
Dental Implants Procedure Process:
Replacing a single tooth – One dental implant with a crown cemented or screwed to it will replace a single tooth.
Replacing several teeth – Fixed bridges will replace several teeth using few to several dental implants. Adjacent natural teeth may need to be shaped or cut down to receive the bridged crowns.
Replacing all teeth – Dental implants can support a full bridge or full dentures.
The exact number of dental implants required to provide adequate, long-lasting support depends on many things, including the amount and quality of existing bone, the bite, and other anatomic factors
Teeth Replacement Irvine CA
If you need to replace one, a few, or all of your teeth, dental implants may be the solution for you. During the initial consultation for teeth replacement in Irvine, CA, all aspects of a patient's smile are assessed to help determine the best treatment plan and to ensure that the most aesthetically pleasing result is achieved. We at Art of Dentistry Institute want to ensure that your desired results are achieved in the best possible way.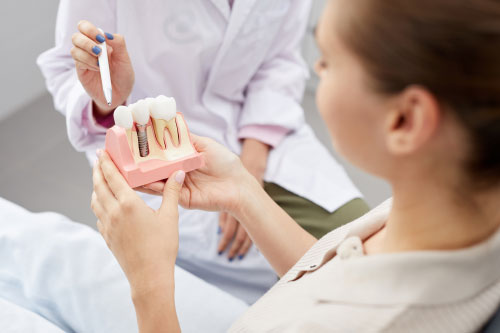 What are the Benefits of Dental Implants
Dental implants have several benefits, including:
Replacement of missing teeth without affecting adjacent teeth.
Provide a permanent solution for missing teeth, as opposed to removable dentures or bridges.
Improve your ability to chew and speak.
Improve your appearance and self-esteem.
Prevent adjacent teeth from migrating together to "close the gap" the missing tooth created.
Prevent the upward or downward movement of the tooth above or below the missing tooth, eventually exposing the root or complete loss of the tooth.
Stimulate and preserve the jawbone, preventing it from deteriorating, shrinking and changing shape due to the loss of a tooth.
Supports dentures, making them more stable and comfortable.
How Long Do Dental Implants Last?
Dental implants can last for many years, often for a lifetime with proper care and maintenance. The average lifespan of a dental implant is around 20-25 years. However, this can vary depending on factors such as oral hygiene, overall health, degree of bone loss and the type of implant used. It's important to maintain good oral hygiene by brushing and flossing regularly, and to continue regular check-ups and cleanings with your dentist to help ensure the longevity of your dental implants. Additionally, avoiding habits such as smoking and heavy alcohol consumption can also help prolong the life of your dental implant.
How Do I Maintain My Dental Implants?
Maintaining your dental implants involves taking good care of your oral hygiene, as well as visiting your dentist for regular check-ups and cleanings. Here are a few tips for maintaining your dental implants:
Brush and floss your teeth at least twice a day to remove plaque and bacteria that can lead to infection or inflammation around the implant.
Use an antiseptic mouthwash to help kill bacteria and freshen your breath.
Use an oral irrigator (water-pik) to keep the implant area clean of bacteria and debris.
Avoid smoking and heavy alcohol consumption, as these can increase the risk of implant failure.
Maintain a healthy diet to promote overall oral health.
Visit your dentist regularly for check-ups and cleanings, as well as to monitor the health of the implant and surrounding tissue.
If you have any issues with your implant, such as pain or looseness, contact your dentist as soon as possible.
It's important to follow these guidelines to help ensure the longevity of your dental implant. With proper care and maintenance, your dental implant can last many years and improve your quality of life.
What are the Different Types of Dental Implants?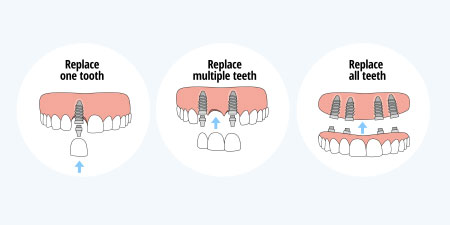 There are many different types of dental implants, each with their own advantages and disadvantages. The most common types of dental implants include:
Endosteal Implants

: These are the most common dental implant. They are surgically placed into the jawbone and then a post is attached to the implant. The post serves as the foundation for an artificial tooth.

Subperiosteal Implants

: These implants are most often used when there is not enough healthy jawbone to support an endosteal implant. They will consist of a metal frame that is placed on top of the jawbone with the posts coming through the gums.

Mini Implants

: These are smaller versions of endosteal implants and are used mainly to secure loose dentures.

Zygomatic Implants

: These are used in cases of severe bone loss. They are longer than regular dental implants and are anchored in the cheekbone.

All-on-4 Implants

: These are also known as Teeth-in-a-Day or Same-Day Teeth this method uses only four implants to support a full arch of replacement teeth.
The type of implant that is best for you will depend on your individual needs and the condition of your jawbone. Your dentist will be able to recommend the best option after a thorough examination and evaluation.
To find out if you are a candidate for dental implants in Irvine, California, contact us at 949-955-3366 to schedule a consultation. We look forward to hearing from you!