Dental Crowns Irvine
A dental crown, also known as a "cap," encases the entire visible portion of a tooth to restore its shape, size, strength, or appearance. Crowns are supported by either the natural tooth root or a dental implant. A crown may be needed to protect a weak tooth, to restore a broken or worn tooth, to hold a dental bridge in place, to cover misshapen or severely discolored teeth, or to make a cosmetic modification.
Although the crown of a natural tooth is covered by enamel, which is the hardest substance in the human body, there are many factors that can compromise its structure. These include gradual grinding or chipping, sudden trauma, repeated dental fillings, root canal therapy, or tooth decay. Sometimes a more conservative treatment, such as onlays or veneers, may be sufficient to treat such problems.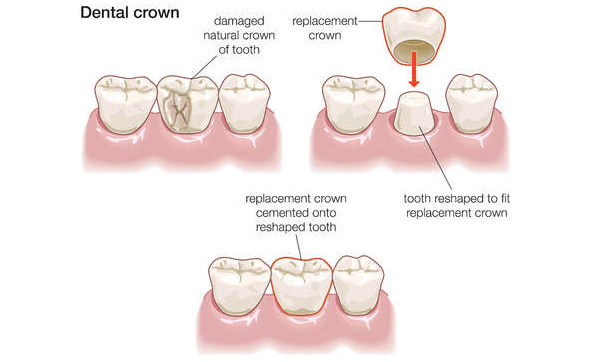 Best Candidates for Dental Crowns
You may be a candidate for a dental crown if one or more of your teeth exhibit the following:
Decay too severe for a filling, inlay, or onlay
Cracks or chips
Misalignment
Need for additional structural support
Yellowing or discoloration
Crowns are also used on children in order to save primary teeth that have been severely damaged and cannot support a filling. Crowns can also protect the teeth of a child at high risk for tooth decay. Stainless steel crowns are often recommended in these cases.
Dental Crowns: Fast Facts
Dental crowns can be made to match the exact color of a patient's other teeth.
Unlike veneers, which cover only the front portion of a tooth, crowns cover the entire tooth.
Just like natural teeth, teeth covered with crowns can become infected if they are not regularly brushed and flossed.
Current research shows that 50 to 80 percent of crowns will last between 15 to 20 years.
Types of Crowns
Stainless Steel
Stainless steel crowns are typically used to temporarily protect the tooth while a permanent crown is being manufactured. These crowns are often used on children's primary teeth because they are more cost-effective and do not require multiple dental visits to put in place.
Metallic
Metal crowns are more wear- resistant  than other types of crowns; they withstand biting and chewing forces well and rarely chip or break. Less tooth structure needs to be removed with metal crowns than with other crowns, and wear to opposing teeth is minimal. The main disadvantage of this type of crown is the unesthetic silver color.
Porcelain-fused-to-metal
These crowns are a good choice for either front or back teeth. Unlike metallic crowns, their color can be matched to adjacent teeth. Porcelain-fused-to-metal crowns are second only to all-ceramic crowns when it comes to providing the most natural-looking appearance. However, the metal beneath the crown's porcelain can sometimes show through as a dark line, especially near the gum line.
All-resin
All-resin crowns are the least expensive type of crown, but they are more prone to fractures than porcelain-fused-to-metal crowns. They also wear down more than other types of crowns over time.
All-ceramic or All-porcelain
All-ceramic or all-porcelain crowns provide the most natural tooth color match. They are a good option for those with metal allergies. They are not as strong as porcelain-fused-to-metal crowns and wear down opposing teeth more than resin or metal crowns.
Dental Crowns Procedure Process
Placing a permanent crown usually involves two visits to the dental office. During the first visit, the tooth and surrounding gum tissue will be numbed. The dentist will file the tooth on the biting surface and along each side to make room for the crown to be placed. An impression of the altered tooth will be sent to a dental laboratory that will create the custom crown. Until the permanent crown is ready, a temporary crown will be placed over the prepared tooth. You may be asked to avoid chewing gum or other sticky foods while the temporary crown is in place.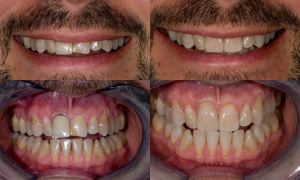 The second visit will involve the removal of the temporary crown and fitting of the permanent crown. If the crown fits and the color is correct, the dentist will cement the crown in place.
If left untreated, a decayed or fractured tooth can cause further pain and damage and may eventually lead to tooth loss. We at Art of Dentistry Institute can help determine if a crown is the solution for your tooth's functional or aesthetic needs. If you are considering crowns to restore your smile, contact our Orange County office to schedule a consultation. We look forward to hearing from you!