Bad breath can be embarrassing, but the underlying causes for bad breath can be signs of illness, or the need for simple lifestyle changes. Determining what causes bad breath is the first step. Here are triggers of bad breath, and what you can do to remedy it.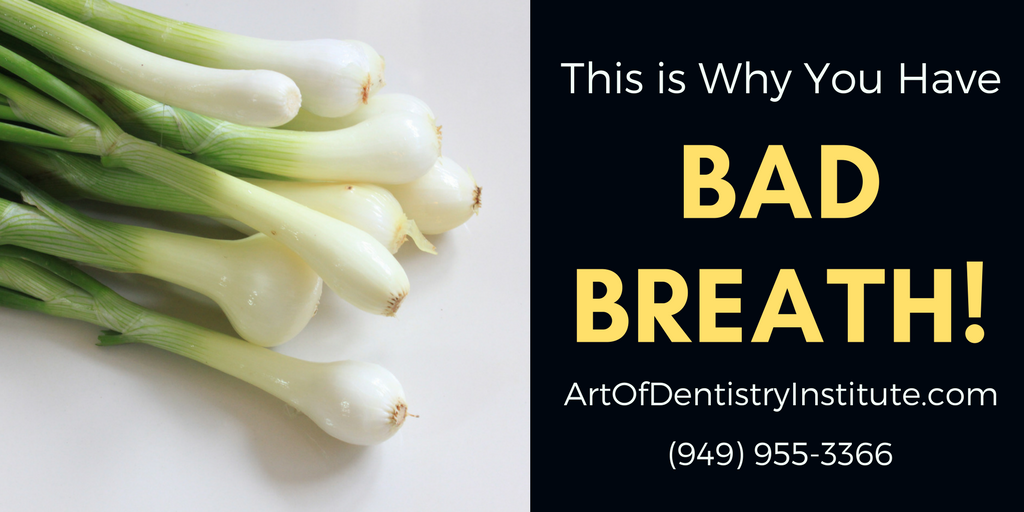 How to Fix Causes of Bad Breath
If you follow these precautions, and you still suffer from bad breath, it's best to contact your dentist for more help.
Monitor Rounds of Drinks
Alcohol can dry the mouth and produce bacteria that causes halitosis—in medical terms, this means bad breath. Spicy foods, cigarettes, and caffeinated beverages can also be contributing factors, as these lead to little saliva production, hence the term "morning breath."
Clean Your Tongue
Bad breath is often caused by residing bacteria on the tongue.
Brushing your teeth, even flossing, can't always catch bacteria that rests on the tongue. Perform a thorough cleansing of the tongue each day using a toothbrush or a soft tongue scraper.
Keep Hydrated When Using Medications
Both prescription and over-the-counter medications can halt saliva production, causing bad breath. Stopping medications isn't the answer here, but the American Dental Association recommends if you are on any medications, stay hydrated and chew sugarless gum to keep your mouth moist, as well as use hydrating oral rinses.
However, try to avoid alcohol-based mouthwashes because alcohol makes the mouth dry, which can cause bad breath to become worse.
Fix Bad Teeth
Dental problems such as cracked teeth and bad fillings can harbor a bed of bacteria in the mouth, causing not only bad breath, but oral issues such as gum disease and cavities. Dentures that aren't property fitted can also cause dental problems. If you have these problems speak with your dentist about dental implants.
Proper Dental Hygiene is Key
This should go without saying, but the leading cause of bad breath is from an unclean mouth. Brushing and flossing at least twice daily can eliminate bad breath on contact, and decrease plaque buildup and bacteria on the teeth and gums—which if goes unchecked can cause periodontitis and gingivitis.
If you're experiencing bad breath, and need more information, contact Dr. Emil Hawary and our Irvine Cosmetic Dentistry office today at 949-955-3366. We understand the frustration bad breath can cause, and our expert team of dental technicians are here to help.