Teeth Whitening Malibu California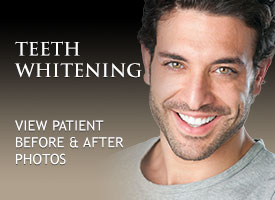 Commonly referred to as bleaching, teeth whitening in Malibu, California is a process that will restore teeth to their whitest shade. Patients have the option of in-office or at-home teeth whitening to brighten stained, discolored, or dull teeth. Teeth whitening is one of the simplest and safest cosmetic dental procedures available. In-office and at-home treatment methods both offer a solution to coffee stains, cigarette and tobacco discolorations, and an otherwise yellow appearance to the teeth.
Professional Teeth Whitening Malibu CA
Teeth whitening is a simple, fast, and effective way to improve the appearance of your smile. Art of Dentistry offers to options to professional teeth whitening in Malibu, CA:
In Office Teeth Whitening in Malibu CA
We at Art of Dentistry Institute offer the Zoom! Chairside Teeth Whitening System, also known as laser teeth whitening. This procedure involves placing whitening gel on the teeth, which is activated with heat from a laser. In just 45 minutes, your teeth will become up to eight shades whiter.
Clinical studies have shown that laser teeth whitening under the supervision of a dental professional is very safe. Though side effects with this treatment are rare, some patients may experience tooth and gum sensitivity following treatment. Your dentist will be at your side during the procedure to monitor your sensitivity.
Results with Zoom! are long lasting, but consistent consumption of beverages that stain teeth may cause the teeth to become discolored again. We recommend brushing twice daily and flossing to maintain your whitest smile.
At Home Professional Teeth Whitening in Malibu CA
Art of Dentistry Institute can provide you with a custom-fitted mouth tray containing prescription strength whitening gel. This can be worn for about an hour per day in the comfort of your own home. Significant results will be apparent after about two weeks of consistently wearing the trays. This method is just as safe as laser teeth whitening and also provides long-lasting results.
For stains that cannot be addressed with either method of teeth whitening, porcelain veneers are an alternative option to disguise discolored teeth.
Cosmetic Teeth Whitening Malibu
During the initial consultation for cosmetic teeth whitening in Malibu, CA, all aspects of a patient's smile are assessed to help determine the best treatment plan and to ensure that the most aesthetically pleasing result is achieved. We at Art of Dentistry Institute want to ensure that your desired results are achieved in the best possible way. To find out if you are a candidate for professional teeth whitening in Malibu, CA contact us at 949-955-3366 to schedule a consultation. We look forward to hearing from you!
Teeth Whitening Malibu. Professional Teeth Whitening Malibu CA. Cosmetic Teeth Whitening in Malibu California.