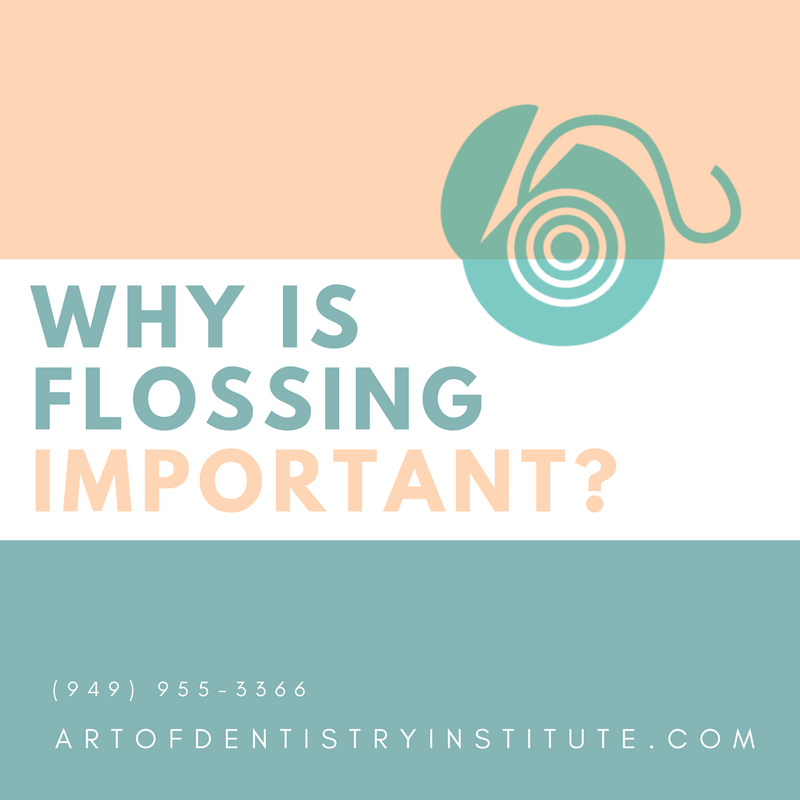 Why is Flossing Important?
Flossing removes plaque buildup and food particles that stick in between teeth and gums. Flossing improves oral health in between dentist visits by getting a deeper clean that polishes the tooth surface, controls bad breath, and decreasing chance of gum disease or tooth corrosion.
Brushing your teeth cleans 70% of your teeth, so not flossing is like not cleaning the other 30% of your mouth. Flossing is one of the most important parts of oral hygiene, preventing and protecting your teeth from gingivitis and oral health issues, like cavities.
Types of Dental Floss
There are two different types of floss:
Multifilament Floss (nylon or silk)
Monofilament Floss (rubber or plastic)
Nylon and Silk Floss
The nylon and silk flosses can come either waxed or unwaxed. Unwaxed nylon floss is general floss that may or may not come in different flavors or have an added breath stabilizer. Waxed floss can also come in flavors and make it easier to slide in between teeth, but also may be more difficult to fit in between tight teeth spaces.
Rubber and Plastic Floss
The rubber and plastic flosses are newer technology made with synthetic fibers that don't fray or break as easily as nylon or silk floss. Included in monofilament floss is Dental tape. Dental tape is much thinner than ordinary floss making it easy to slide in between tight teeth spaces, while being shred resistant.
Flossing Devices
If you are not interested in using the traditional dental floss, there are now a variety of common floss devices that make flossing between teeth an easier routine.
Regular Floss
Floss Picks
Water Flosser
Regular Floss
Regular floss, as stated above, comes in many different forms that all work well with removing plaque. Depending on the spacing of your teeth and flavors that are offered, you will be able to find a floss that suits your teeth's needs.
Floss Picks
Floss picks have become a popular way to floss teeth. Floss picks come in different shapes and sizes with waxed and unwaxed options to accommodate hard spaces to reach, like the back of the mouth. When flossing with a floss pick, rinsing the pick regularly during the floss process is recommended to keep from moving debris and other food particles from one part of the mouth to other.
Water Flossers / Water Picks
Water flossing devices, such as a water pick or dental floss jet, use a stream on pressured water to push food particles and debris out from in between the teeth. Although this method of flossing is the faster solution to flossing your teeth, using regular dental floss provides the best results in preventing gingivitis and protecting your teeth.
Flossing with Braces, Dental Implants, and Bridges
Flossing with braces or extra dental work can be very frustrating and seem impossible, but there are specialty floss devices that make it easier to floss between teeth with braces or extra dental work.
Super Floss is a great alternative to regular floss or floss picks that can be difficult to maneuver. Super floss has three parts, a hard end to enter the teeth, an absorbent middle to catch debris and food particles, and a regular floss end to finish through in between the teeth.
Floss threaders are devices that allow you to pull regular floss through wider open spaces. These are more popular with braces to pull floss through the gap between the tooth and wire.
Dental Work Floss is floss created for people with dental work that is a combination of two above with a spongy floss that has a built in threader.
Remember, even with regular flossing and brushing of your teeth is it recommended that you get regular teeth cleanings.  Call your dentist and make an appointment to keep your mouth happy and healthy.
Sources:
http://www.mouthhealthy.org/en/az-topics/f/flossing
http://www.colgate.com/en/us/oc/oral-health/basics/brushing-and-flossing/article/how-to-floss
https://www.jeffersondentalclinics.com/blog.html/2014/08/21/the-different-types-of-floss-and-how-to-floss-properly/
http://oralhealth.deltadental.com/22,HD29
http://www.huffingtonpost.com/thomas-p-connelly-dds/dental-floss_b_1643933.html
http://www.gumbrand.com/gum-eez-thru-floss-threaders-840a.html
http://www.drcollins.com/dr-collins-dental-work-specialty-floss.html
https://oralb.com/en-us/products/super-floss
https://www.deltadentalins.com/oral_health/flossing3.html