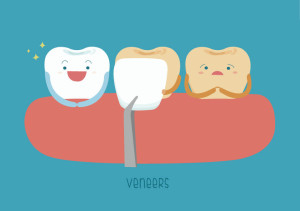 At Art of Dentistry Institute, porcelain veneers are our patients' top choice for a total smile makeover. In only two office visits, patients can correct virtually any aesthetic concern, such as crooked, cracked, and chipped teeth, discolorations, and gaps. Because the procedure is so versatile, we receive quite a few questions from those who are considering veneers to significantly improve their smile. Here are our top frequently asked questions about porcelain veneers and their answers:
Are porcelain veneers permanent?
Because a very small part of the tooth is etched away, porcelain veneers are considered a permanent treatment. Only 0.1 to 0.5 mm. around the front and sides of the tooth is removed. Without this step, the thin sheets of porcelain that are cemented to the teeth would look oversized and unnatural. Veneers can be removed if it becomes necessary, but the teeth will not be aesthetically pleasing unless they are replaced with new veneers.
Do porcelain veneers need to be replaced?
Porcelain veneers are extremely durable and do not need to be replaced unless they are damaged. If they do crack or break for any reason, they can and will need to be replaced; they cannot be repaired with dental bonding.
Will porcelain veneers increase the risk of cavities or tooth decay?
Veneers function just like natural teeth, so the general standards for oral hygiene apply. As long as patients brush their teeth, floss, and visit their dentist for regular teeth cleanings, their risk of developing cavities or tooth decay is significantly decreased.
Will porcelain veneers appear whiter than the rest of my teeth?
The color of your veneers is completely customized to match the rest of your teeth. Some patients choose to whiten the rest of their teeth with laser teeth whitening before they receive veneers to achieve an overall whiter smile.
Will porcelain veneers stain?
One of the major advantages of porcelain veneers is that, unlike natural teeth that can become discolored over time, porcelain veneers are incredibly stain resistant.
Will porcelain veneers impact my diet?
Unlike braces, which prevent patients from eating some of their favorite foods, patients do not have to change their diet with porcelain veneers. As with natural teeth, chewing on hard, non-food objects or ice will always increase your risk for cracks or chips. However, cracks and chips in veneers are a very rare occurrence. We can help you with Irvine Dental Veneers and Newport Beach Dental Veneers.
If you are interested in learning more about porcelain veneers and would like to schedule a consultation, please call Art of Dentistry Institute at (855) 427-8337. For your convenience, you may also fill out our online contact form.