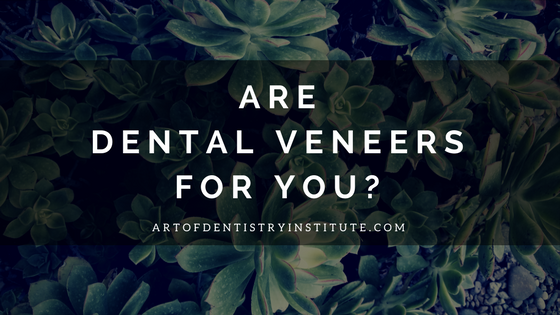 Should I Get Dental Veneers?
Dental Veneers can transform a smile in as little as two dental office visits. Veneers can resolve oral conditions including tooth discoloration, gaps between teeth, crooked teeth and misshaped teeth. At Orange County's Art of Dentistry Institute, Dr. Emil Hawary has been placing veneers for over 2 decades, giving patients a picture perfect smile.
How do veneers work?
Veneers are thin sheets of porcelain that are bonded to the fronts of teeth. Originally created in Hollywood to give movie actors the appearance of having perfect teeth, veneers are cosmetic solutions to improve oral aesthetics. To achieve long lasting and natural looking results, dentists need to remove a small portion of the tooth enamel in ensure the veneer fits the tooth and looks and feels natural. Once the tooth is prepped, the patient is given a temporary veneer which they wear for about 2 weeks until Dr. Hawary receives the permanent veneer(s) from the lab.
Does it hurt to get dental veneers?
Most patients report very little to no pain associated with getting veneers. Before the procedure Dr. Hawary gently administers a local anesthetic just to ensure that any discomfort is kept to a minimum as the top surface of the tooth is reduced. However, the reduction is typically so small (approximately .3mm) and does not encroach on the root or nerve area so the reduction should be relatively painless. Most sensitivity or swelling after the procedure is easily managed with ibuprofen.
Teeth cleaning with veneers:
Patients with veneers should be using a soft bristled tooth brush and non-abrasive tooth paste. Most pastes with whitening agents in them are considered abrasive and should be avoided. Rembrant® toothpaste is generally considered a safe paste to use at home if you have porcelain restorations. It is also important to notify your hygienist when receiving a professional teeth cleaning. Your Hygienist may avoid certain instruments such as the scaler on your veneer.
Who should not get veneers?
Any oral health concerns such as cavities and tooth aches should be addressed before veneers are placed. If you are not already a regular patient we will schedule you for an oral exam during your veneer consult to make sure that your mouth is healthy and ready for cosmetic dentistry. Patients who grind their teeth heavily at night may not be a candidate for veneers. Teeth grinders should mention their grinding habit during their consult so Dr. Hawary can make the best recommendation for your aesthetic goals.
How long do veneers last?
Unfortunately, there is no way of knowing how long a veneer will last but most last at least 10 years and many of our patients have had their veneers for 15+ years. Veneer longevity has a lot to do with the patient's occlusion, grinding habits, and how well they take care of their veneer(s).
Ready to see if veneers are right for you?
If you are in Orange County and would like to learn more about veneers or schedule a consultation, please give us a call at Art of Dentistry Institute today. We look forward to helping you attain your ideal smile. Like wise, if you're not in the area then you may want to look into a practitioner near you. Commonly, clients are searching for Veneers vs Lumineers Cost Pensacola or in LA as this can be a decider in their cosmetic dentistry decision.